Prall-Tec at Vakbeurs Recycling 2023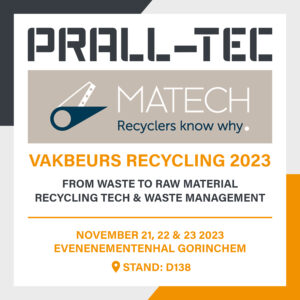 🌍 Exciting news from the world of recycling technology!
♻️ We are thrilled to announce our participation in the Vakbeurs Recycling 2023.
The event will take place from November 21 to 23, 2023, at Evenementenhal Gorinchem.
🚀 Visit us at our booth, where we will be showcasing groundbreaking solutions in collaboration with our partner MATECH BV. Together, we are committed to transforming waste into valuable raw materials and contributing to a more sustainable future.
📆 Save the dates and explore the latest innovations in recycling technology with us!
See you there! 👥